Description
RADAR DETECTION
Neoline X-COP 9100s world's first hybrid dashcam which detects Multa Radar CD and CT. 
THE Neoline X-COP 9100s RADAR MODULE – This kind of radars is widely used in Europe. These radars have a unique signal structure requiring a specific platform for its detection. For the user's convenience the device detects Multa Radar in a special M band, so that the user will be warned of such radar.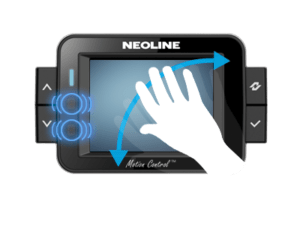 Z-SIGNATURE FILTER – To eliminate false alerts, particularly from the blind spot detection sensors of other cars, Neoline's own development is used – Z-signature filter. Unlike similar technologies there is no false blocking of real police radars.
WORLDWIDE GPS DATABASE – Neoline X-COP 9100s has built-in radar and camera database which includes data of more than one hundred thousand radars around the world (Europe, USA, Israel, Middle East, Turkey, Australia, etc.).
The database is updated regularly on neoline.com.
The hybrid has built-in GPS and GLONASS modules for the fastest and most accurate locating.
TRAFFIC CONTROL CAMERAS – Neoline X-COP 9100s notifies about all traffic control cameras and warns in advance about such types of control as:
– Driving on a public transport lane
– Radars detecting «in the back»
– Driving out on a curve
– Driving on a crossroads / traffic light
– Driving on a pedestrian crossing
OUTSTANDING DAY AND NIGHT FILMING QUALITY
Powerful Ambarella CPU, multi-lens glass optics and a Sony sensor provide high quality video. A wide viewing angle of 135 degrees allows four road lanes and a roadside to fit into the frame. Automatic Night mode helps to see all the details on the dark sections of the road. The mode is activated based on the time settings in the menu.
UNIQUE EXD PLUS MODULE – The device has an integrated ultrasensitive module EXD Plus, which provides maximal distance of police radar detection in K, Ka and M bands.
The device is particularly effective in the Turbo mode, warning about low-power radars directed toward the back of the car, such as Gatso, Multanova 6F, Multa Radar, etc.
Turbo mode will turn on automatically when a particular speed is reached.
MOTION CONTROL – To turn the audio and voice alerts off when approaching the radar, one must simply hold a hand in front of the hybrid screen. The Motion Control technology reacts to gestures and will turn on the sound again in 6 seconds after the notification is complete.
FREQUENCY SELECTION – The hybrid's menu contains a frequency selection function. Depending on the country of use, the hybrid changes the detection settings in different frequency ranges, and also cuts off false signals more effectively.
For expert users, a detailed adjustment of the hybrid is possible, up to and including the disconnection of particular frequencies within the K and Ka ranges, using the Setup file.
NEW X-COP MODE – The new X-COP mode is closely interrelated with automatic switching of frequency ranges, sensitivity modes and false responses filters, depending on the speed of the car.
INTELLIGENT PROCESSING OF TRIP TRACK CAMERAS – A distinctive feature of Neoline X-COP 9100s is the intelligent processing of Trip Track cameras. The algorithm installed in the hybrid sounds an alert when you leave the monitored area, notifies about speeding, correctly processes other GPS-points in the controlled area, etc.
К BAND SETTINGS – Experienced user can adjust K band based on knowledge of the frequencies in which police radars work in the region of use.
Wide – frequency from 23.900 to 24.250 GHz – the standard setting for detecting all police radars in the K band.
Narrow – frequency from 24.050 to 24.195 GHz – to reduce the number of false responses.
Super narrow – frequency from 24.050 to 24.125 GHz – to minimize the number of false responses.
SWITCHING OFF К BAND IN THE CITY MODE – The user can turn off the K band in the CITY mode. This is actual for driving in big cities where there is no mobile radar systems, but there are many false responses. By switching off K band in the CITY mode you will get information only from the GPS database.
Do not forget to switch to HIGHWAY or TURBO mode when driving outside the city.
VOICE NOTIFICATION ABOUT 45 POLICE RADAR TYPES – Neoline X-COP 9100s will notify about a police radar type, allowed speed for the road segment, provide information about distance to a radar and average speed (in case of detection of «Trip track»). Database includes 45 different radar types. Every new radar is promptly added to the database and is available in new updates.
SILENT AND DANGEROUS ZONE – You can add special zones into the hybrid.
Silent zone – a zone with a big number of false responses. Such zones are often located close to petrol stations and shops with automatic doors.
Dangerous zone – a zone which includes location of police radars (if they are not stored in current database), busy intersection, speed bumps, etc. The next time in this place a hybrid will promptly notify you with an alert signal. The radius of the zones can be set in the device menu.
SPEED BASED NOTIFICATIONS – GPS without sound alert – in case the car speed is lower than speed limit in this parameter, sound and voice alerts for radars from the GPS database will not be made.
RD without sound alert – in case the car speed is lower than speed limit in this parameter, sound and voice alerts for radars will not be made by the radio module.
SWITCHING ON OF SPECIFIC GPS POINTS – Settings flexibility allows to switch on and off specific GPS points like traffic control posts, "Trip track" system cameras, standard Strelka radars, dummy radar complexes and so on.
MAXIMUM SPEED – This function helps not to exceed speed limit you set. You set the speed and when you exceed it, you get the audio warning on overspeeding. This function isn't connected with GPS base and works without any police radar detection.
GPS NOTIFICATIONS DISTANCE – Alert Message Distance to police radars in GPS base may be set due to your preferences:
According to the database value – the manufacturer assigns a due value in meters to each cam in GPS base responsible for the alert.
According to this value set in the settings each cam in GPS base will be assigned an optional value: 300 m – 900 m.
Per a motor car current velocity – the more your velocity is, the more distance you're aware about police radar.
IPS DISPLAY AND EASY TOUCH INTERFACE – Neoline X-COP 9100s has a new bright IPS display that is perfectly readable from any angle of view.
EASY TOUCH interface provides opportunity of viewing and managing of video recordings. In the detection mode, user gets full information about:
– type of police radar
– type of traffic control
– distance to the GPS point
– average speed
– speed limit
– type of incoming signal
– signal power
– current vehicle speed
– current time
– dangerous zone and silent zone
HIDDEN INSTALLATION TYPE – Placing a hybrid at the top edge of the windshield makes it almost invisible from the outside. Along with this the power cable is connected directly to a compact mount with power charging Smart Click Plus. This allows you to avoid any vibration when driving on a dirt road.
PARKING MODE – Neoline X-COP 9100s can automatically switch to parking mode when the engine is stopped. This requires a special cable and direct connection of the hybrid to the car's power supply.
DEMO MODE – For the user's convenience, a DEMO mode demonstrates the hybrid's functions (sound and voice alerts, indications on the screen). The device will exit the DEMO mode after all notifications and indications cycle will be finished.
MADE IN КOREA – Neoline X-COP 9100s is the product of leading Korean experts in the field of automotive electronics, aimed to improve driver safety. Neoline X-COP 9100s is the perfect combination of Korean quality and reliability.