Description
NO SURPRISE ANYMORE:


REAL-TIME WARNING FOR THE APPROACH OF ALL EMERGENCY VEHICLES!

Target Blu Eye 2 an even greater success than its predecessor and to ensure even more safety on the road for your customers.

To celebrate the upcoming introduction of the Target Blu Eye 2, we've produced a special introduction video.

Blu Eye 2 comes standard with the following components:
Receiver
All necessary cables
VCD dipole antenna
Display: either a LED mirror display or an LCD display can be selected
Blu Eye 2 is the unique and worldwide patented traffic safety system that warns you in advance when approaching emergency vehicles, even if such a vehicle is not equipped with siren and blue light. With Blu Eye you will be warned with an acoustic and visual alarm. The signal strength on the Control Display shows you at first glance whether an emergency vehicle is approaching or moving away.
Blu Eye is based on TETRA technology, known in the UK as the Airwave network, which is often used for communication between the various emergency services. This advanced technology enables Blu Eye to give you advance warning of approaching rescue services, such as Police vehicles (marked and unmarked), police motorcycles, ambulances, fire engines. In many countries the system works almost everywhere, including many German states.
The advantages of the Target Blu Eye 2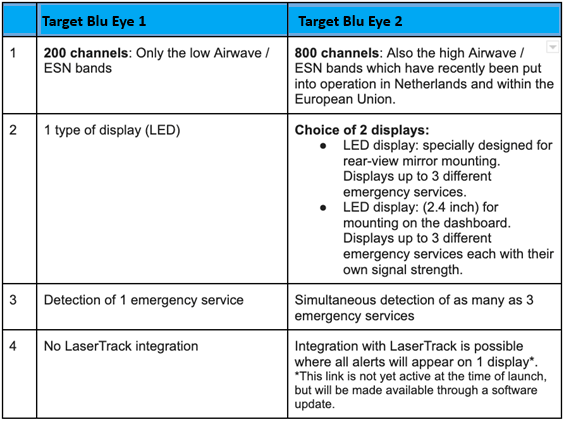 Warns you in advance for approaching emergency services such as marked and unmarked police cars, ambulances and fire engines.
Prevents unpredictable and dangerous maneuvers.
Increases your own safety and the safety of other road users.
Prevents material and personal injuries.
Enables a faster lane for emergency vehicles.
Indicates whether an emergency vehicle is approaching or moving away.
Increases a relaxed and comfortable driving style.
Extremely user-friendly.
Compact size and easy to install.
Target Blu Eye: Based on Tetra technology
The innovative and new traffic safety system. Blu Eye consists of a central unit, a control display and an external antenna. The system is based on the pressure wave (TETRA) network. When an emergency service, e.g. a police car is nearby, you are warned in advance with an acoustic and visual alarm.
Audible warnings The communication system of emergency services in your country generates four types of communication patterns . Blu Eye recognizes all four patterns and produces four different audible signals. All signals indicate the presence of an emergency service in your area. For more information, refer to the user guide .
Visual warnings In addition to audible warnings, the unit also produces visual warnings using the signal strength on the Control Display. When an emergency vehicle is approaching, from any direction, the signal strength gives you an estimate of the distance between you and the emergency vehicle. For more information, refer to the user manual.
Sensitivity modes: Two sensitivity levels can be selected on the Blueye Control Display:
1st Highway mode : In this mode, Blu Eye provides the highest sensitivity that the system can detect for emergency services at a long distance.
2nd City mode : In this mode, Blu Eye offers a lower sensitivity. This mode is recommended for use in urban areas.
The Blu Eye's detection range varies from several hundred meters to about one kilometer. The range depends on the selected sensitivity mode and environmental conditions.
Are you unsure what a hidden installation in your car will look like? Take a look at the videos: